Visit & Shop
Visit
We offer two locations to visit prints "in the flesh":
31 Central Square, Suite 10 (2nd floor), Keene, NH.
Open by appointment (text 978-985-4720, or thenewleafgallery@gmail.com ).
1 Main St., Lyme, NH, in the gallery space of Matt Brown Fine Art, located in a building shared with Mascoma Savings Bank's Lyme office.
Open Fridays 10 - 5 and Saturdays 10 - 3, or by appointment (contact matt@mbrownfa.com).
Our aim is to foster connection and conversation in the enjoyment and appreciation of handmade prints. Though our work currently focuses online through this web-site and related social media, we are pleased to have real spaces in which to house and display our print offerings.
Consider a visit, we'd love to see you.
Shop
This web-site deploys from a cloud-based spreadsheet representing the gallery's inventory record.
This means:
- imagery and information you find on this site is our most up-to-date representation of actual work available
- we are able to show work available to ship directly from our member artists (these pieces carry the location label "with artist").
To purchase:
A pop-up link ("purchase") creates an e-mail you can use for inquiries or to submit purchase information (ship address and framing details). Once order details are settled we send you a square invoice for simple credit card payment, guide you through the use of a payment portal for submitting credit card payments, or describe other forms of payment options: venmo, mailed checks, trade-ins, shipments of baked goods.
Framing
We sell prints unframed but also offer framing choices for our print offerings. We prefer to use reflection-free glass (either museum glass or UV-70 glass by True-Vue). Wood frames are available using a choice of the following natural woods: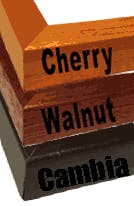 Shipping
We are set up to ship from both our Keene and Lyme locations, USPS or UPS. Most shipping for any quantity of prints is:
$29 east of the Mississippi,
$59 west of the Mississippi.