The Wonder of the Leaf
An exhibit exploring leafy imagery in work of various of our New Leaf Gallery member printmakers.
December 20 - February 28
When Taryn and I came up with the name for our printmaking gallery we circulated ideas connected to an effort that would be "green". Ideas included notions such as: The Green Granite Gallery, The Green Leaf Gallery, The Green-up Gallery. But we found the image of a leaf summarized better what we felt we are after: something hopeful and re-generative, something new yet built of elements that are time-tested and tried. Focused on a concept of fostering connections and conversations around the making of handmade prints, the leaf seemed a simple and fresh image of what we imagined our effort might be about.

Our first online theme exhibit explores images of our namesake, the leaf. This structure, this solar energy organizing unit upon which so much of our earthly life depends, the leaf offers a great deal to learn from and about.

"Wetland - Late Summer", a two-color etching by Bradford, NH printmaker J. Ann Eldridge, offers a realized idea of leaves and leafiness in our world: layers upon layers, leaves go and go and grow and grow.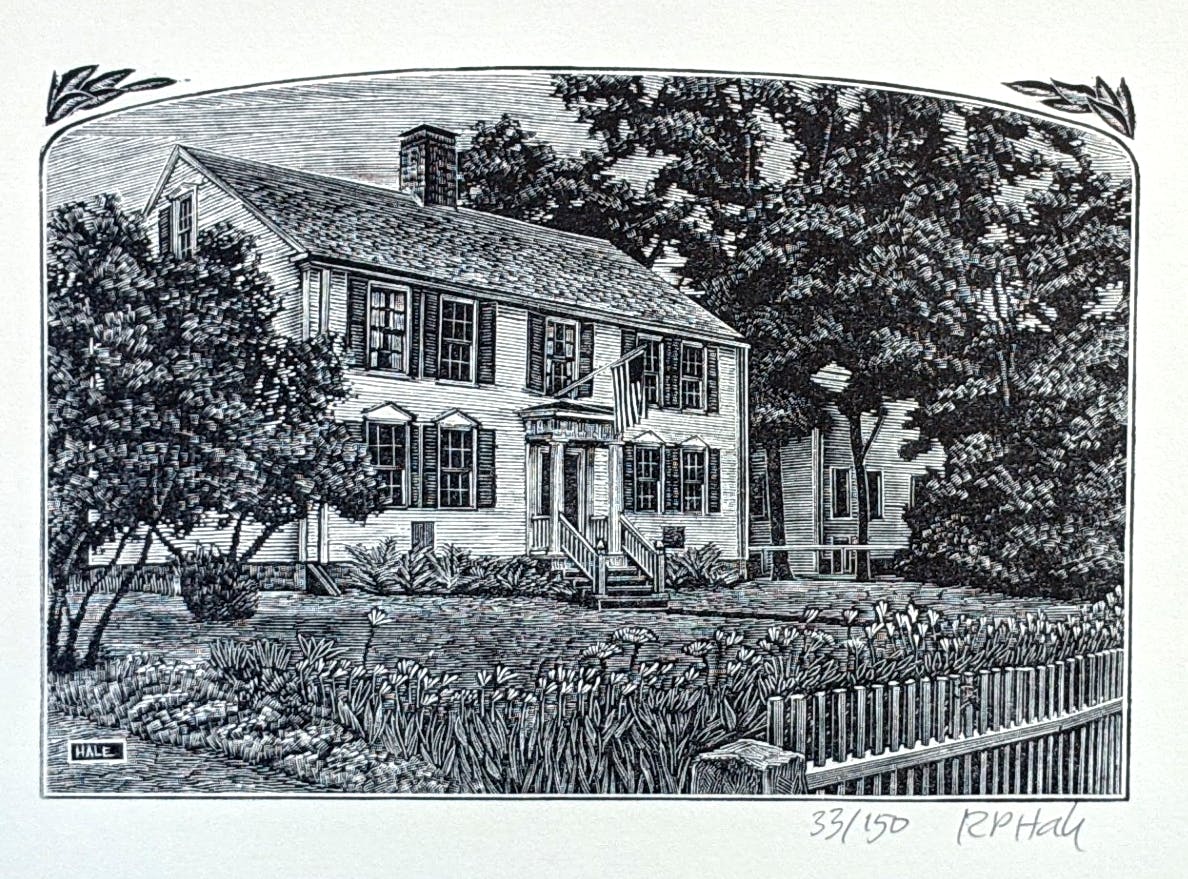 Leaf structures juxtaposed with man-built ones can make for a fascinating balance in both 2-d imagery and in the 3-d architectural arrangements that we live with today that go back generations. Notice how R. P. works the leafiness of his flower beds in and around a receding picket fence. So well done!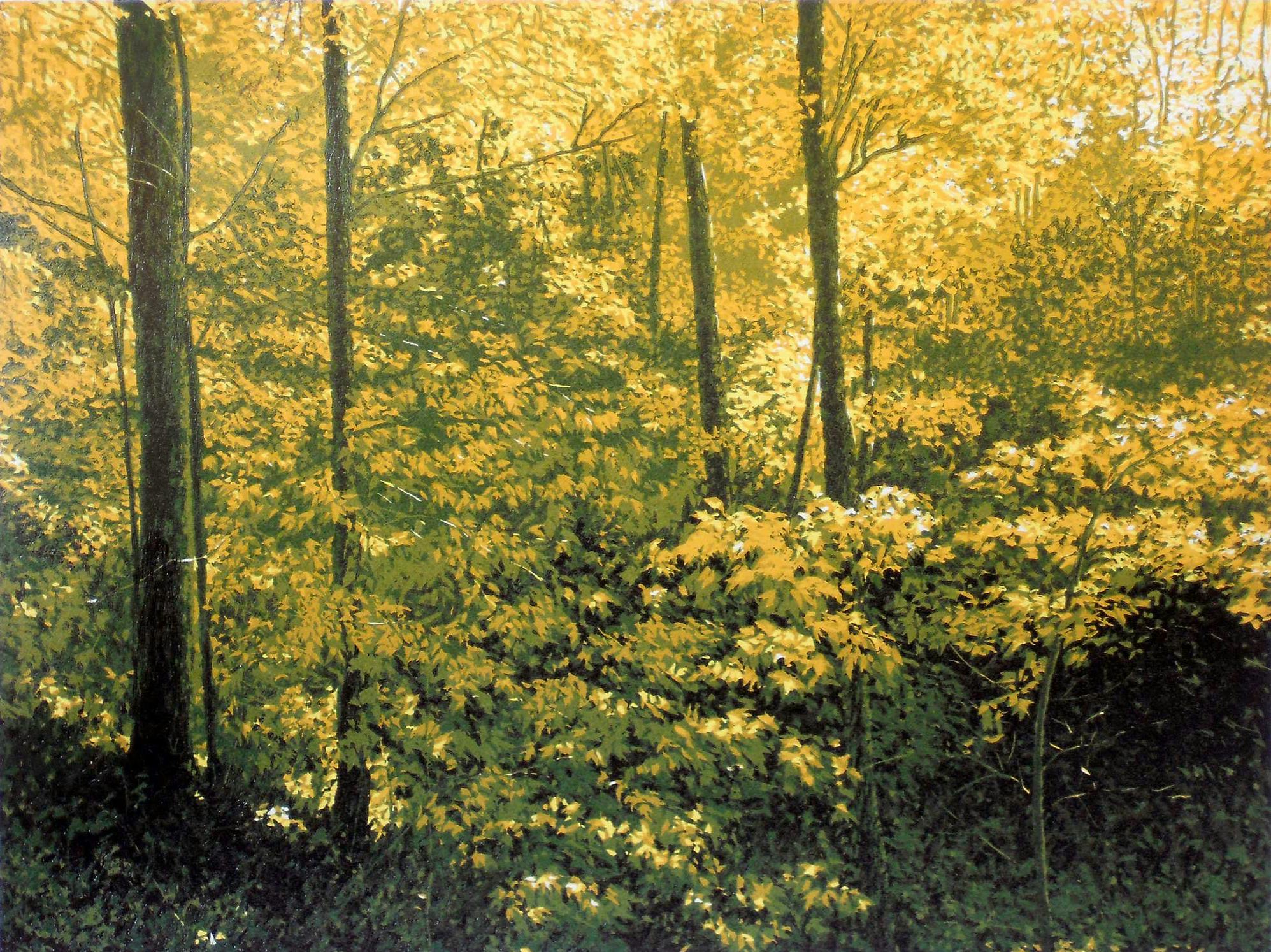 William Hays' linocut print "Abundant Earth" is all about it, a focused statement sharing a recreated idea of the endless variety that our leafy forests offer up. Oxygen that we breath, organic matter that nourishes our soils, the wood structure that gives us our wood products, many of our fuel sources, rich environments for our fellow birds, animals, insects and others that are here with us on this earth; this print reminds that our leafy forests are the rich source of so much to be grateful for on this good green Earth.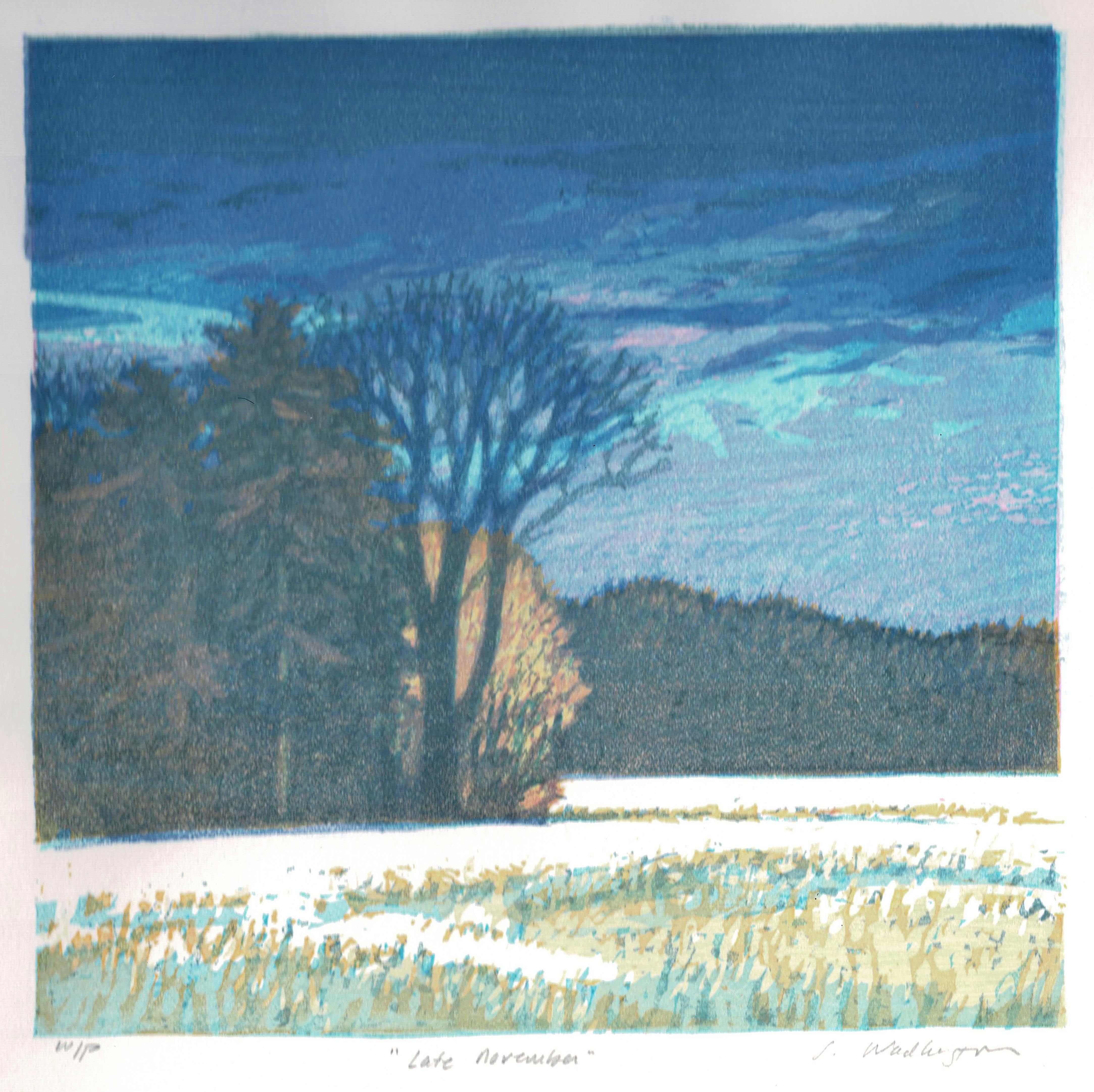 Sandy Wadlington's "Late November" shows some of that leafiness organized into fields, trees, far off forest edges. A main idea in this image, a tidy woodblock made using the Japanese multiple method, is the impression of afternoon sunlight under a cloud-bound sky, slivers of the solar energy that gives leaves a reason to be.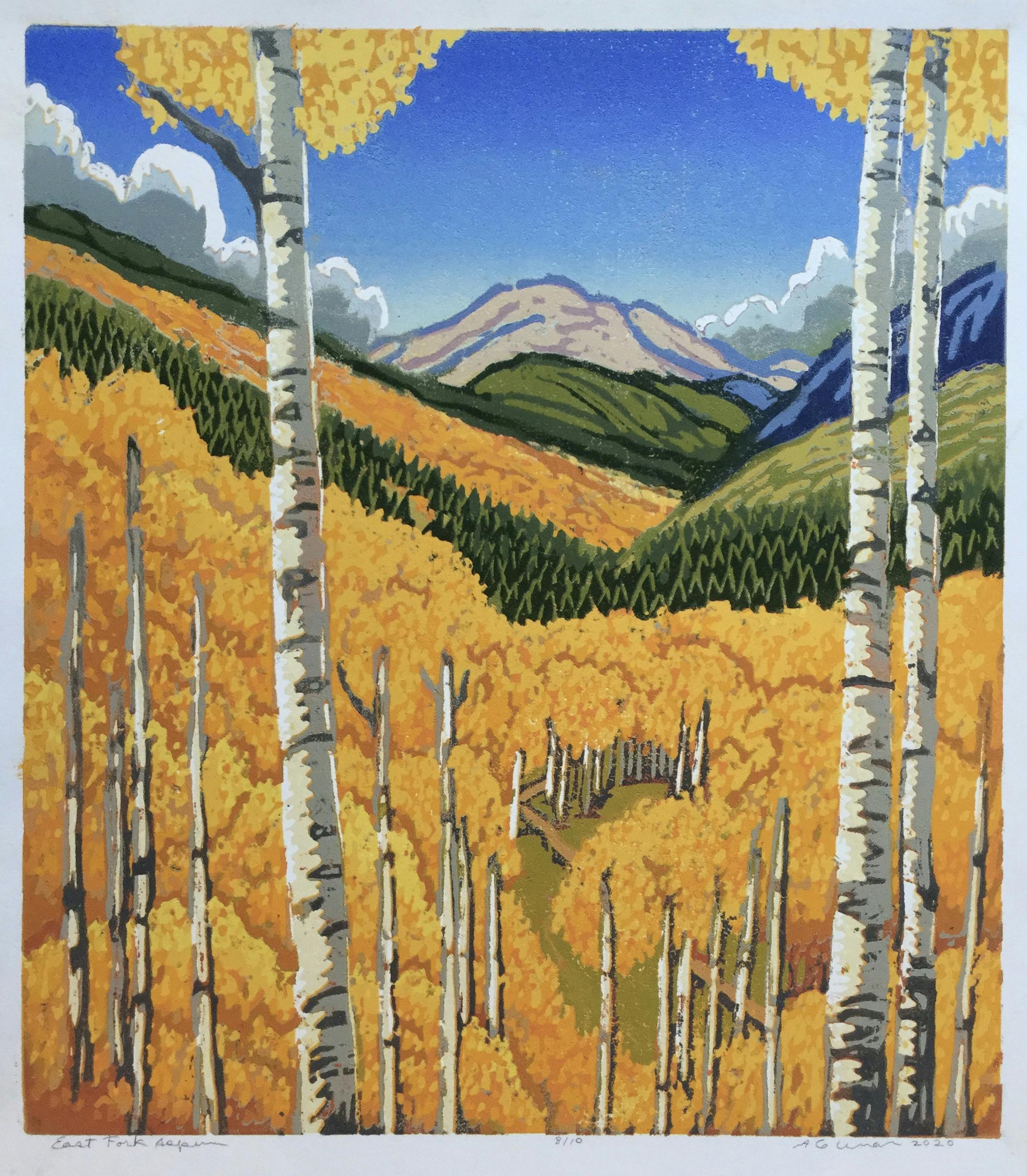 Angie Coleman's linocut print "East Fork Aspens" uses full-bodied heavy ink, the brilliant colors of this print are like the sunlit leaves against a bold blue sky in the fall. My own opinion? The print shouts out an appreciation and gratitude for the leaves of these trees which beautify the hills and mountains of our world.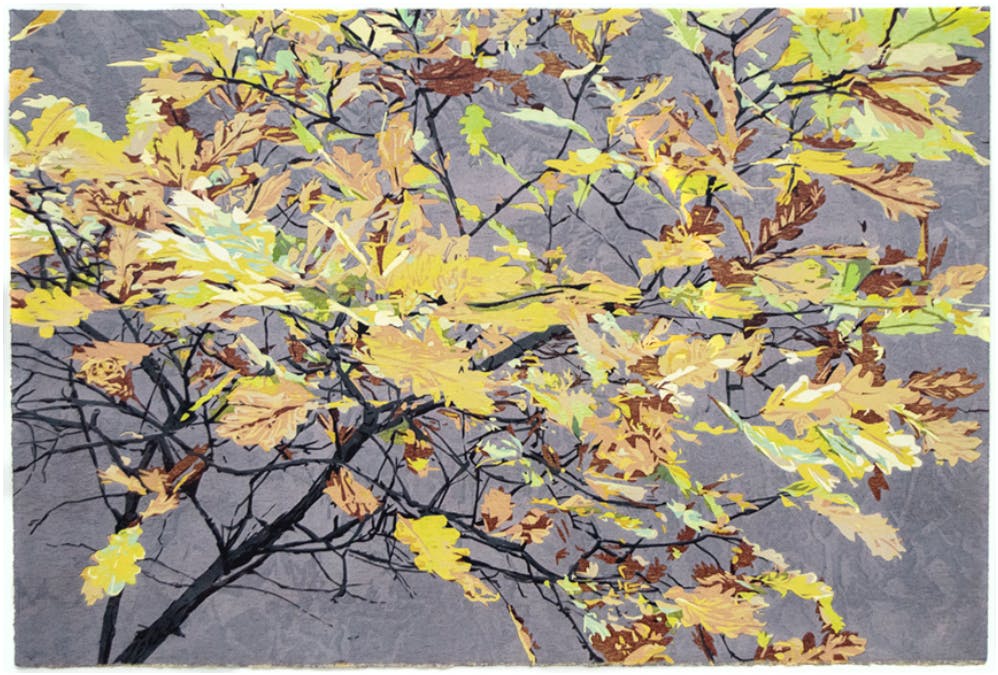 Jean Gumpper's "Clear Day" is a big print. Oak leaves depicted sporting the mottled colors of fall, Jean's image carries the feeling of patterns and movement so wonderful in our leafy world. Leaves are responsive, they continually change; leaves catch the light, they stay honest and hopeful; leaves catch the wind, they are this way and they are that. Working with a woodblock reduction method, Jean's imagery goes right to the edges of full sheets of beautiful french-made cotton paper. She catches in this print all the wonderfulness and potential of a focused appreciation for leaves. "Clear Day" works as a reminder that handmade prints, like leaves, are of a type yet no two are exactly the same.

Bruce Peck' "Winter's Grip" is, at first glance, a depiction of our world lying leafless in the depth of winter. But with its patterned depiction of snow-drenched drooping branches, its feeling for the moving water of a stream in winter, its subtle coloring suggesting the greens of evergreen boughs and a hopeful pink in a far-off sky, "Winter's Grip" reminds that those leaves will return, for sure.
Catherine's Greene's "Goodwill" offers a happy feeling for that worked out relationship between the living photo-synthesizing tissue of a leaf and its stem and skeletal structure.