Event
TNLG Zoom Gathering Session 4: a visit with NYC hanga printmakers Cameron Bailey and Kevin Frances
March 07 at 10:00pm
Zoom
Please consider joining our Sunday afternoon printmakers' get-together using the Zoom format. You don't have to be a printmaker to participate. The discussion follows an informal show-and-tell format that is relaxed and engaging. It's a chance to interact directly with master printmakers and learn about the creative process of producing handmade prints. 
On March 7 we visit with NYC printmakers Cameron Bailey and Kevin Frances. Both employ the Japanese hanga method (color woodblock printing with water) in their printmaking.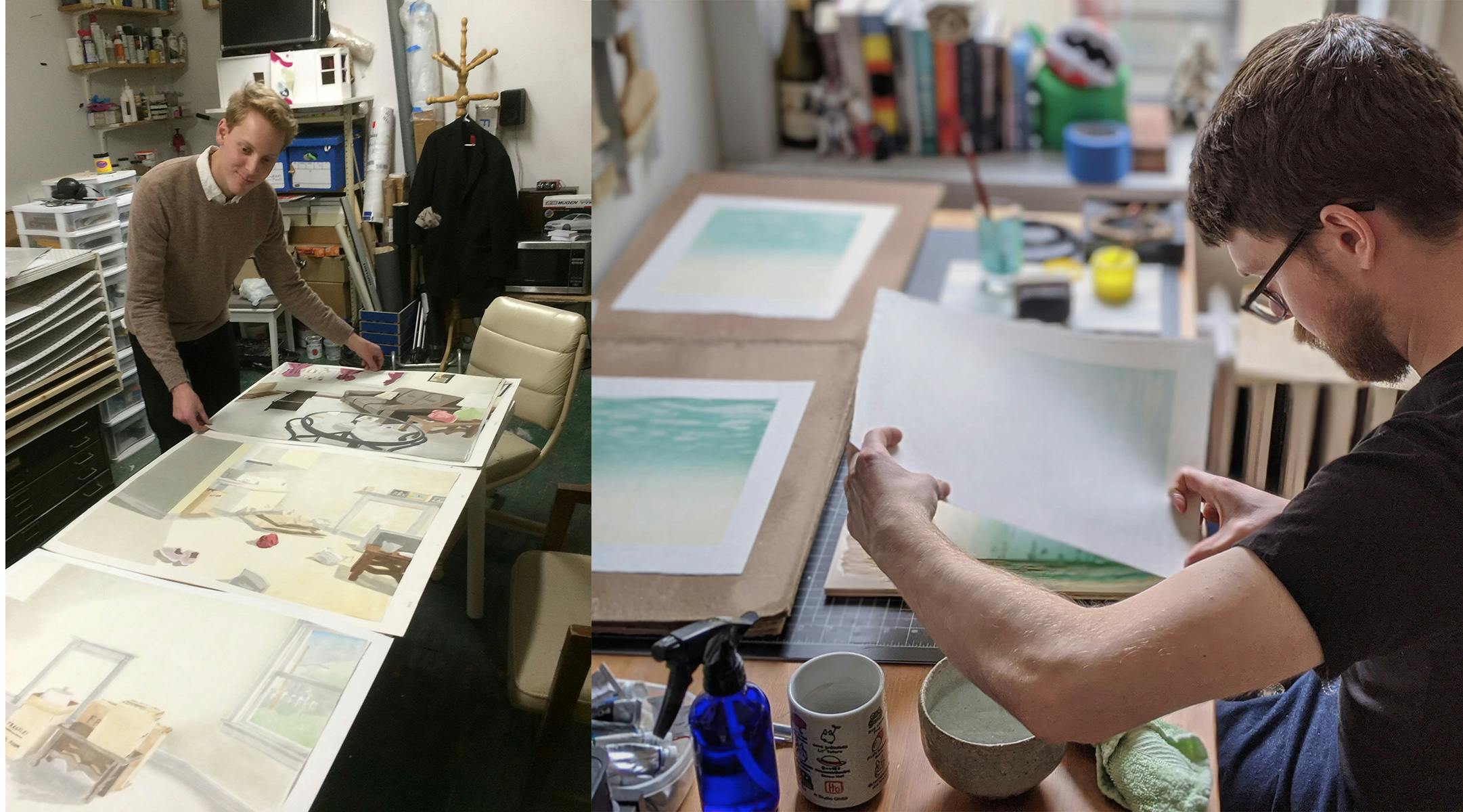 Cameron graduated from the Maryland Institute College of Art in 2013. After moving to NYC he began making prints in 2016 using the Japanese approach (with water, hand-held brushes and a baren as a press). Partly as an adaptation to be able to make prints in the small space of the NYC apt. he shares with his wife, he uses a multi-layer reduction technique in working out his printing blocks. Cameron works in the print department of the MET, so he is getting to know quite a bit of what is possible with print-making! You can find more about Cameron's work at https://www.cameronbaileyprints.com. 

Kevin first began experiments in hanga printmaking as an undergraduate art student in CA (University of California, Davis).  He made hanga print-making a focus of his study in graduate school (Kevin earned an MFA from the Rhode Island School of Design in 2013). He pursues a very original printmaking process:  a model-maker and very original thinker, his print imagery is generated from 3-d models that he builds.  He has exhibited his model and print combinations at numerous galleries around the country:
"Man In the Moon" at the Leon Gallery, Denver, CO, 2020;
"Symbiogenesis" at Flyweight Projects, Brooklyn, NY, 2020;
"An Unexpected Houseguest" at the Cheymore Gallery, Tuxedo Park, NY, 2019;
"Superposition" at the Jewett Art Gallery, Wellesley College, Wellesley, MA, 2019;
"Ego" at The Schnormeier Gallery, Mount Vernon Nazarene University, Mt Vernon, OH, 2017.
View these projects and find out more on Kevin's web-site at https://www.kevinfrances.com.

To participate send us an email and we'll put you on our list for receiving a Zoom invite an hour or so ahead of our meeting start.